When I was younger, if someone cursed or swore in conversation in a pub, the landlord would call out "Language please!" prompting the person to be circumspect in what they were saying.  Actually, anyone who was offended might say the same thing.
I have always enjoyed language.  I have been reading since I was four or five and you could call me a book worm.  I easily get lost in the words and I really enjoy rich, descriptive language as well as informative and factual reading.  I also enjoy tracing the etymology of words.  Enchantress for example – a word that might be used in stories to suggest a witch or the sort of woman who might lead a man astray, actually means one who chants and traditionally women would chant when they were working together.  They might be working with textiles, weaving or washing clothes;  or in a garden; perhaps they were all spinning together (spinster!!).  Unfortunately, the early Church did not like women to be chanting together in case they were calling up demons or exercising their power and so the word enchantress now has negative connotations.
The etymology of a shanty or song, such as a sea shanty is interesting.  You could expect 'shanty' to come from the French verb chanter – to sing but it is thought to come from chantier – a naval work camp or lumberjack's hut.  You see how interesting etymology or the study of the history of words is!
Language is both an art and a science.  When I studied Literature in college, our lecturer gave us a facsimile of the original copy of a poet laureate's work.  There were scribbles and crossings out where he had alternated between different words as he must have thought one word carried more weight than another or perhaps conveyed more meaning. I found this very interesting because I had assumed Poet Laureates just wrote poems – just like that!  Of course not…they craft their poems. I also remember writing an essay on the language of Thomas Hardy and ended up lost in a very boring text book about the scientific structure of grammar.
I am writing about language today for a number of reasons, reasons which mainly make me angry.  Let's start with the word "weeds".  Weed is derived from the old English weod – meaning grass, herb, weed. You could say it was one of those catch-all words, meaning anything that grew that was smaller than a shrub or tree.  Nowadays the word has only negative connotations which means many people inadvertently destroy the natural medicine that is growing outside their door.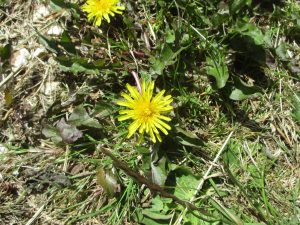 Other words that make me really angry are words like "factory" when someone means abattoir .  Phrases like "Agri-Industry"  are just oxymorons and make morons out of the people who use them. "Stock" is a word that used to mean goods that were held in stock, i.e in a shop or warehouse.  Now the word is also used to describe animals going to the "factory".  Those animals are not things and nor are they commodities in my mind, they are living beings!! Our beautiful trees, that used to cover so much of Ireland and were so important to the people that they created an alphabet, Ogham, are now regarded as yet another industry.  Our beautiful trees which were once regarded as living elders and wise ones are now just lumber, timber or cubic metres of logs.  Of course we need wood for heating and furniture, building and paper; but our woodlands and forests, our beautiful trees have been reduced to just being a component of industry and have been dragged to the factory floor.
Worst of all, of course, are those words that trick and deceive people; words such as "cases" or sentences like "..due to the increase in cases".  Such sentences are deliberately mis-using a word and are re-defining it to obtain a specific reaction.  It is important, when we are bombarded with media at every turn, to be discerning and to really listen.  Don't just hear the word, listen to what is actually being said. Listen to the tone of the speaker, are they making sense? Are they being logical and truthful?  Are they tripping and stuttering over their words?  Are they using fancy, obfuscating words that people do not understand? Are they twisting their words so that they cannot be held accountable?  Words can become propaganda and unless we really listen to what is being said and make discerning judgement we can be hoodwinked.  We can be tricked into thinking that a "factory" is not a slaughter house.  We can be tricked into thinking that agriculture, which is defined as – the practice of cultivating the soil, growing crops and raising animals has become an industry (which is defined  as the process of making products using machinery and factories).  How did we end up with and accept, an oxymoron such as agri-industry?  We didn't listen!!! We didn't question! Remember those little "w" words – who, what, why, when, where?
Words create everything don't they? "In the beginning there was The Word".  Once something is named, we all know it.  If a plant is called Hawthorn, then we all know it by that naming word. If it is called Fuchsia, then we know it as Fuchsia.
Words have power so we must be careful what we wish for.  We must guard our tongue in case we say something we might regret, because words carry energy.  To spell a word is to make a spell.  We must look at meanings behind words to know if the language is helping or hindering us.
Language can be beautiful as well of course and beautiful language is poetry.  Nature poetry particularly uses language to describe our amazing, diverse, incredible world.  There is also the "Language of Flowers" and there are words and phrases which evoke feelings of belonging and connection,  Mother Nature, Mother Earth. We all belong to Mother Earth, we are all relations so therefore we are all connected and if we are all connected, surely we are all one.  If we are all one, then let us use language please, to tell the truth and to spread only love.