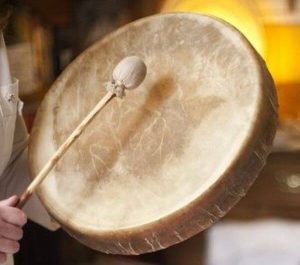 Shamanic Rites of Passage enable us to mark life changing events in our lives and grow into the people we are meant to be.
We are living in an increasingly secular society in an age where most people are so busy trying to keep their heads above water that they rarely notice the change in seasons let alone acknowledge the major events in their own and their family's lives. I can help you to focus on these key moments, marking in a ceremonial way, the milestones in a person's life with shamanic rites of passage.
As an initiated  Priestess of Brigid within the Foundation of Sacred Plant Medicine
I work in close consultation with you to create a very  beautiful personal ceremony, I officiate at these special occasions bringing an alternative spiritual dimension to a truly memorable moment.
I do not charge a fee for officiating at these rites, I would be happy with a donation according to your means. If travel expenses are incurred we can negotiate a fee that suits us both.
---
Birth
This ceremony or Shamanic Rite of Passage, is for the mother, celebrating her fertility and her greatest creation – a new life. We give thanks for this great gift and acknowledge the mother in her affinity with all of Nature. Too often the momentous and life- changing experience of the mother is overlooked with everyone's attention on the newborn. It is important to also celebrate the act of giving birth and to recognise the metamorphosis from Maiden to Mother.
---
Naming Day
A ceremony which acknowledges the new life in the family, within the community and in the Human Family. Naming a new person is a very important occasion, not to be taken lightly. In times past much consideration was given to the choice of name. In this ceremony we call on the Five Elements, the Ancestors, Spirit Allies and Guardian Angels to bring blessings to the baby and make an offering to Mother Earth that has been chosen by the parents. Family and friends are asked to participate by calling out blessings and virtues for the child.
---
Becoming a Woman / Becoming a Man
Onset of Menses age 12-14 – This monumental and powerful Rite of Passage, when a girl becomes a woman, (a being with the miraculous ability to bring forth life) is rarely acknowledged these days. In this ceremony we welcome the girl child into the Sisterhood of Women as a Maiden and give thanks for the power within her. A natural object chosen specifically for the individual will be presented at this ceremony.
There will be one to one preparation time where I explore with the young woman what it means to be a woman and to enable her to appreciate that she is in charge of her own destiny. A challenge is offered at this time which represents the Quest that Heroines in myth had to face and is symbolic of stepping over the threshold from girl to woman.
Boy to Man age approx 14 -16– In the past, adolescent boys were acknowledged when they reached manhood by being given some token, perhaps the tools of a trade, a responsibility or a weapon. In more recent times their manhood was acknowledged with a new pair of long trousers. Today there is no cultural mark for this transition and it is universally recognised that many young men feel adrift, unsure of their role in our society and can become despondent, depressed and even suicidal.
Before this ceremony takes place the young man spends some time preparing by considering what makes a man, what is his role, how he should relate to women and how to build up his self-esteem. He chooses something from the natural world as a symbol of his achieving manhood. There will be some challenges set for him which represents the Quest of the Hero in myth.
All preparatory work is done in FULL CONSULTATION with parents and is tailored to the individual.
---
Marriage / Handfasting – Commitment Ceremony
A wedding ceremony for those couples who do not want to be married within a traditional religious faith but who would nevertheless, enjoy a spiritual dimension to their very special day. This ceremony invokes a host of spiritual allies including for example,  Ancestors, Plant Allies, Guardian Angels and the Five Elements among others for each partner. It also evokes the qualities and powers the couple wish to find in each other and within their relationship. A serious and sacred event but also filled with joy and happiness as the couple commit to one another before their witnesses.
Following a thorough consultation this occasion will be created by the couple in conjunction with myself and it can be as simple or as extravagant as the couple wish and can be performed indoors or outside. Please ask if you need any assistance with an outdoors location, music or a venue. This ceremony is as individual as the couple.
---
Crone Rites
Our society places an emphasis on youth and beauty (an emphasis which undermines all women) and so as women age in our society they become invisible and are disregarded. Menopause is viewed as a medical complaint rather than as a powerful Coming of Age. Everyone seems to have forgotten that women, the bearers of new life, also bring forth wisdom and knowledge at this later age. Women are made to feel that they are no longer useful which is very much different to many indigenous cultures where the Grandmothers are recognised as the Wise Elders. In Ireland, older women are often referred to as old hags or an cailleach as a term of insult. However, The Hag or An Cailleach is one of the most powerful of Irish goddesses having power over life and death, the weather, agriculture, chaos or peace. She resides over winter and rambles over the mountains leaping and throwing boulders with a wild abandon. She represents the wild, elemental nature of woman which is why she is so powerful a deity. Women insulted by the term hag or cailleach should bear this insult as a badge of a honour. This initiation heralds the new role that a woman plays as she takes her place as an Elder, a woman of wisdom, knowledge, experience and good counsel. It gives thanks for her life journey so far and blesses her new role as wisdom keeper.
---
Psychopomp / Death Ritual
It is very difficult for the majority of people to imagine their own death let alone imagine how they want their death to take place.  We participate in plans for other celebrations but this celebration is left to those who survive us. I can assist you in preparing for death, encouraging you to cast off anything that prevents you from feeling totally at peace before the journey begins. This rite enables non-religious people with a personal spirituality to cross easily from this world to the next and is also very suitable for those who follow any proscribed faith.
It is important for me to be sensitive to the needs and feelings of family members also, which is why I recommend a consultation to take place that includes the closest members of the family so that they too are aware of all aspects of this rite.
---
Please feel free to contact me about any of the above Rites of Passage with any questions you may have.