Becoming a Wise Woman
Terri Conroy B.A (Hons) H.Dip (Ed) M. Phil, Dip AK.
Becoming a Wise Woman is every woman's destiny, if she chooses it.  Therefore, to step onto the initiatory path that is Wise Woman Training  is to make the decision to build a relationship with the plants.  Not only that, but to also reconnect to the Goddess and to allow the Divine Feminine and the Goddess to be immanent.
The Plant Wisdom – Wise Woman Training is a very special, one year course.  You can join at any time because the Wheel of the Year is cyclical.  Journeying around the Celtic Wheel of the Year is the way to find your Plant Allies.  At the same time you will meet the Goddess in her various forms.
The Wheel of the Year in Wise Woman Training
The Wheel of the Year consists of eight festivals – the quarter days and the cross-quarter days which are the fire festivals

We will celebrate The Four Fire Festivals 
In a similar fashion we will also celebrate the The Four Quarter Days
[su_button url="https://danusirishherbgarden.com/product/plant-wisdom-and-the-goddess-wise-woman-training/" target="blank" style="flat" background="#8224E3″ size="9″ radius="0″]Click here to buy Wise Woman Training [/su_button]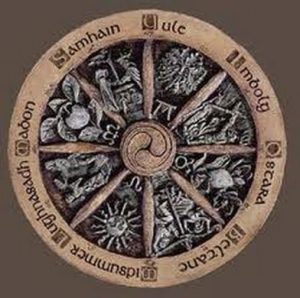 Course Content of Wise Woman Training
To further deepen our connection, our Celtic heritage will be recalled  through folklore, story and music whilst we craft our sacred tools.  As  women working in circle, we come to understand how everything is alive and filled with Spirit.
If you choose to physically attend we will spend time in Nature here in Connemara, at Danu's Irish Herb Garden.   Walking the land, wandering the sea shore and communing with the plants are some of the ways that you will see the magic.   The land of Connemara is imbued with an unseen presence that can be felt when walking with gratitude, for the Beauty of Nature.  
Alternatively, you can stay at home, connecting to your own land environment in the same way.  If you decide to opt for the digital version of this course, there will be guided tuition coupled with on line communication.
Each festival will include the crafting of your magical tools; tools such as  Crane Bag, Dream Pillow, Slaghdán and others.  Furthermore,  at each of the fire festivals you will learn how to journey with the Drum and with Dance. At the same time, Ritual and ceremony will also be created.  If you wish, you can then prepare for a Vision Quest at the end of one cycle around the Wheel.
With each step the plants will be with us, forging our connection to Mother Earth. As we journey with the plants to the Goddess we will undergo personal transformation remembering that everything is alive and Love is all there is.
Crafting will include,
how to build an altar

how to make sacred, magical tools

how to journey to other realms

how to make plant remedies and flower essences

making ritual and ceremony

preparation for a Vision Quest
as well as recalling our folklore and music.
It is my belief that to save our planet, (or rather to save humankind), we must follow a path that leads us to the Goddess via the plant world. To this end, if we can inculcate a relationship with Nature and with the plants then we will become a force that will work with the planet. To reforge that connection with the Goddess and the Divine Feminine, energy will ripple out from each individual and bring about the change we need to see. A change from exploitation of Earth's resources that harms all, to collaboration and appreciation.
The plants have been here for 700 million years whereas humans have only been around in our present state for about 200,000 years. Is it possible that plants have something to teach us? YES!!!! Plants are eager to share their wisdom with us and Plant Wisdom – Wise Woman Training is a vehicle for them to do so.
Each of the eight festivals and  (Samhain, Imbolc, Bealtaine , Lughnasadh Winter and Summer Solstice, Spring and Autumn Equinoxes), will take place on the Saturday nearest to the festival date and costs €100 per person. This includes an organic, vegetarian lunch and teas. Participants are encouraged to bring food to share so that we all nourish and support each other.  If you prefer to follow the digital version of the course, each festival costs €35 which includes one to one tuition during each festival period.
Dates for 2022 are as follows:
Imbolc 5th February 2022

Spring Equinox 19th March 2022

Bealtaine 30th April 2022

Summer Solstice 25th June 2022

Lughnasadh  6th August 2022

Autumn Equinox 24th September 2022

Samhain 5th November 2022

Winter Solstice 17th December 2022

Date to be decided for personal Vision Quest – This takes place in the Centre of the Wheel.
So tune into your wild side, the side that is aching with loss, the side that wants to remember the Divine Feminine and join us on the path of becoming a Wise Woman. This course is open to all and can also be taken alone, as a lone retreat. Contact me for more details. If you have any queries about anything, just call. Please note dates may be subject to variation.
[su_button url="https://danusirishherbgarden.com/product/plant-wisdom-and-the-goddess-wise-woman-training/" target="blank" style="flat" background="#8224E3″ size="9″ center="yes" radius="0″ icon="http://danusirishherbgarden.com/wp-content/uploads/2017/09/mother-earth-and-plants.jpg"]Click here to buy Wise Woman Training [/su_button]
My path in life is to heal and teach working holistically to bring balance and harmony to mind, body and soul and to tread softly on this Earth.